How do we separate mixtures of DNA? How does the pH value of different solutions affect the plants? How does VR technology work? The answers to these profound questions were found at the Creative Program Exposition. On May 23rd, 2019, 7th and 8th graders of SHSID ushered in the annual science fair. Students understood the beauty of science through interesting experiments and exciting games.

The topic of this exposition was "Going Creative and Inspiring Your Mind", there were three major sections, science, engineering, and art. Creative courses of SHSID had booths as well, including Creative Media Design, K'nex Mechanics, Environmental Science Workshop, Mixly Club, and so on. In the middle of the gym was the exhibition of unmanned aerial vehicle, where students could experience flight race. Students participated in lots of interesting activities that were enjoyable and learning-filled. At the booth of Biology Workshop-Animal and Medical Science, students can touch experimental mice; at the booth of Creative Media Design, students can see how panorama is taken.

Besides the booths of these creative courses, our science fair also invited Science of Plant Physiology and Ecology, Shanghai Institute of Nutrition and Health, Shanghai institute of Organic Chemistry, and other scientific research institutes to set up booths at the exposition. These professional institutes used their abundant knowledge and interesting experiments to show students the secrets of science. At these booths, students observed silkworms under their different stages of life, examined wheat under microscope, and can ask the professional scientists all kinds of scientific questions during the experiments.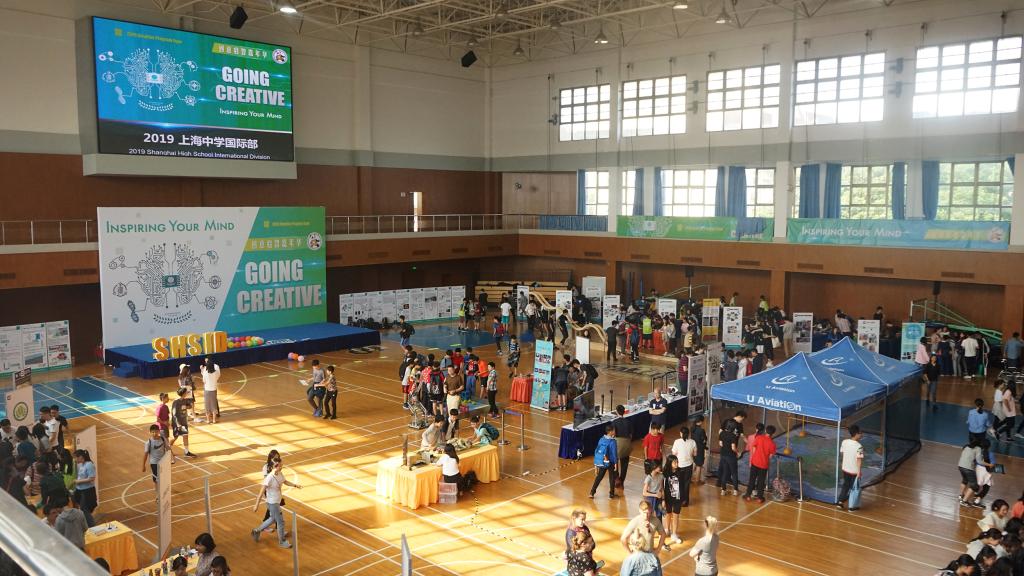 There was also an awards ceremony for some students who won prizes in competitions. Principal Liu, director Ni, chief director of science and technology of SHSID primary and middle schools Ms. Yao, and Ms. Tang from Science of Plant Physiology and Ecology Institution gave prizes to these students. Some of the works of the award-winning students were exhibited.

After the activity ended, many of the students still wanted to continue. This activity not only showed students and parents the creative courses set by schools and the achievements in science and technology, but also broadened students' views and inspired students' interest in researching and exploring the world of science.
(Written by 7(1) Amy Cheng Pictures by Yang Jiawei, Ginger Supervised by Ms. Skallerud, Ou Xiaoxi)