Basing on the curriculum of nurturing independent learners and responsible global citizens, SHSID middle school offers specialized courses, programs, and themed activities including American-based curriculum for students from Grade 6 to 8, on languages, mathematics, science (Grade 6 and 7), history, geography, physical science (Grade 8), life science (Grade 8), PE, music, art, IT, optional classes, and Service Learning program (Grade 8) and creative and innovative courses.

Developing students' interests and learning abilities are the core values of the Middle School curriculum. The courses of the Middle School, compared to the Primary, are at a higher level in terms of content and evaluation. During Middle School, students will become more prepared for further study.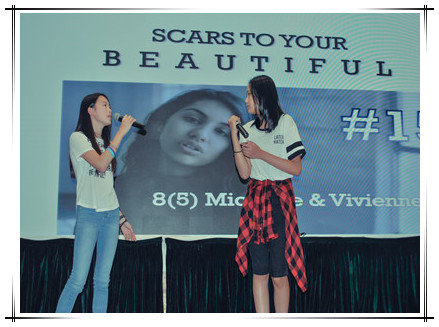 The Middle School curriculum broadens and particularizes its curriculum by adding new, more specified subjects, dividing social studies into history and geography, and science into physical science and life science. Most of the courses in SHSID are taught at different levels to ensure the satisfaction of students' different interests and academic qualifications. With hard work, this level-specific curriculum allows students to move to higher levels. After-class groups are another option for Middle School students to develop their interests.

The core ideas of the creative and innovative courses in the middle school are "to develop innovative awareness", to "experience the innovative process", and "to cultivate innovative abilities". With a wide choice on engineering, IT, science, and literature and arts such as 3D Innovational Space, K'Nex Mechanics, Programming, Robots, Creative Writing, and etc., innovative courses provide students with a future vision and prepare them with a creative mind.

Fostering responsible global citizens is the consistent education philosophy of our school. Service learning, as a part of personality and character development curriculum, focuses on students' development on personal, social, and global dimensions. The successful completion of the Service Learning Program is a middle school graduation requirement. Students grow in making responsible judgments, react and act properly under complex real world context, and understand civic responsibility through creating, leading, organizing, and managing various service learning projects to bring help, improvements and helps to the communities.

In subjects like PE, music and art, SHSID encourages students to discover what they are interested in. In PE, except for certain general physical training, students can choose among basketball, soccer, tennis, swimming, ping pong, badminton, gymnastics, kendo, baseball, and other activities.

Co-curricular and extra-curricular activities are important components of the Middle School curriculum. Students can participate in various activities and competitions to promote their academic abilities, such as speech competitions, spelling bees, and writing competitions.